SensLights viewpoint >>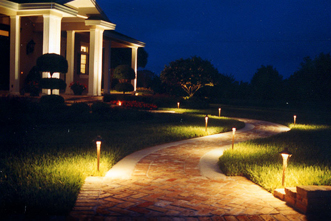 A very important principle for eco-lighting landscape design process is to reflect the ecological, environmental protection and energy saving. The need for a reasonable choice of energy-saving lamps and the use of effective energy-saving control technologies is to reduce energy consumption and achieve the basic purpose of ecological lighting landscape design; at the same time, optimal allocation of lighting the light intensity and light color is to reduce light pollution; In addition, according to the the actual situation of plants and insects of landscaped grounds, scientific choice and control the wavelength of light and illumination time is to minimize or even eliminate the adversely affection on the landscape and garden plants to flower and trap pests, etc.
SensLights suggest >>
(1) Square Ecological landscape lighting design
For ecological landscape design lighting Square serve as a highlight and focus of the landscape design, so its design process should be sufficiently highlighted, and using lighting design with a variety of different height, angle and light color is to fully tap and reflect the main ecological and artistic scene to attracting tourists. Generally, square lighting should be brighter than the other scene, but if a number of squares designed in the same landscape garden, then the main square is brighter than the other square. In addition, it is possible to combine the square ecological landscape design with the whole topic landscape design (such as large-scale sculpture, musical fountain, etc.), and thus the entire ecosystem lighting landscape design play a finishing touch.SensLights have different type of testing in each components to quality of products will be better than any other LED lighting
(2) Watercape ecological lighting design
Water ecological lighting landscape design features is based on the integrated use of sound, light, electricity technology cascading waterfalls, fountains, rivers, lakes, ponds and other water features. Waterscape lighting design should avoid glare, pay attention to the impact on the reduction of light for the lamp placed in water. The leakage protection device and safe voltage should be used for waterscape lighting lamps, incandescent lamp, high pressure mercury lamps, metal halide lamps or LED lights can be used according to different needs. Moreover, especially in terms of lighting design for the fountain, the combination of lighting and the inherent charm of the fountain can do not only bring visual impact to tourists, but bring the enjoyment of hearing.
(3) Plants landscape eco-lighting design
For plants ecological landscape lighting design, for trees, small LED floodlights near the trunk can be reasonably arranged, and lighting up the crown as an object to be oblique, in order to ensure that the branches can be fully illuminance , especially the use of greenish light color make the illuminated trees even more vivid green.
(4) Road ecological landscape lighting design
Road ecological landscape lighting design prefer to pole or garden lights, and as far as how to arrange the lighting fixture, we should give full consideration to the actual situation of the road and lamps. Lighting installation height should be coordinated with the spacing of lamps, pole mounting height shall be not less than 4.5m, spacing should be 25 ~ 30m; garden lights spaced 15 ~ 25m; corners poles spaced is appropriately reduced. The shape of the lamp should be coordinated with landscaped gardens.
(5) Ecological landscape lighting design with equipment and control system
For ecological landscape lighting design with equipment and control systems, it is essential to ensure the safety and safe operation of equipment, dustproof, waterproof, corrosion and impact-resistant. Wherever approaching should not only improve protection level, but also use the safe voltage and the necessary protective equipment. In particular considerations of ecological energy saving, eco-design should maximize the use of energy-efficient lighting products. And lighting controls should be integrated computer control, through the intelligent control color changes of ecological landscape garden lighting is conductive to synchronous discoloration and individually color respectively. In running lights, jump lights, flashing interval and other means, to highlight the effect of lifting Landscape, more interesting and lively.
(6)SensLights lighting components are tested in Multitasking Corporation Ltd 's lab for quality approvals